We are passionate about agriculture. We love the cowboy way of life.
We are enthralled with the cowboy makers & crafters.
Ranch lifestyle is a tradition, a culture that is rooted in the history of our country. It's an iconic thing to be a cowboy. We want to keep that feeling alive by passing it on for generations through vivid, authentic, and real stories of what it's like to live the life of a genuine American cowboy, a hardworking rancher, an honest farmer, or a dedicated rodeo athlete.
McFarland Productions specializes in professional photography and videography for ranch and farm weddings, engagement sessions, western fashion and portraits capturing the cowboy lifestyle – on your farm or ranch anywhere you live. Telling your story should express your lifestyle and preserve your family's priceless and unique history whether it be a wedding, your engagement, cattle brandings, your cowboy craft or your life.
McFarland Productions also provides marketing consulting services for western fashion, cowboy makers, agriculture related companies, farms, ranches, horse trainers and more through a focus on photography & videography, content marketing, website design, development & maintenance, social media marketing, publishing and more.
Promoting the agriculture industry and preserving the western way of life is a passionof ours. With years of experience with ag-related public relations work as well as online marketing experience specific to farms, ranches, horse trainers, rodeos and other agriculture based businesses, we would love to hear about your business and help you with something as small as some promotional images or video all the way up to an ongoing relationship helping you extend your reach.
Based in Southwestern Oregon, we love traveling to ranches, rodeos, farms, and locations helping to tell stories about this lifestyle that we cherish.
Owner and Founder of McFarland Productions
I grew up on a ranch. I currently live on a ranch with my husband. I have had horses most of my life. I've competed in rodeo and showed in many disciplines and with many kinds of animals. That's why McFarland Productions can produce amazing images of ranchers, riders and ropers – its my lifestyle, too.
I can see the unspoken, indescribable bond between horses and their riders. Even more, I can capture it because I've been there. I've been fortunate to find my one in a lifetime horse and we made quite the team rodeoing and showing for many years. I've started colts both good ones and the ones that make you work for it.
I've been part of the joys, wins, heartache, and hard work of ranching and farming. I've been through saving a calf in a hard pull with a heifer in the middle of the night in below freezing temperatures. I've been racing the next rainstorm with hay equipment that never seems to hold together when you are in a hurry. I've trained cattle dogs and processed new lambs.
Its not a job. Its a lifestyle. And those living it know what it means to be a rancher, a farmer, or a cowboy.
I love documenting ranch weddings. Capturing the combination of people and places and perfect moments in time is also what makes wedding photography and videography so rewarding. Two people. One heart. One mind. One moment. Ranch weddings are truly unique. Celebrating the lifestyle and the love between two people, two teammates, soulmates. A tip of the hat to heritage and generations. I love… love. I love creating photos & videos of a glance, a suggested move translated with a slight shift, or light touch. Instant. Subtle. Powerful. I love capturing real life, real love and how it felt to be there.
I have a passion for agriculture; farms, ranches, and agriculture related businesses. Cattle ranches, sheep farms, leather workers, saddle makers, western fashion designers, hat makers, silversmiths… I love to work with them all. The marketing services McFarland Production provides through promotional videos, photos, designing, developing and maintaining websites and blogs, and social media marketing allow me to work with so many unique clients who are part of this lifestyle I am so fond of and to help educate the world on what agriculture really is. In today's society, one that is so disconnected with the agriculture industry, this is so very important to me and I believe is the first step towards preserving our way of life that has been passed down from generation to generation.
Being able to give back and work with the cowboy and ranching community through photography, videography and providing marketing services is my way of staying connected through my work. It gives me the opportunity to help preserve this precious way of life.
A way of life not everyone appreciates or understands. | It's a passion of mine. | It's really who I am.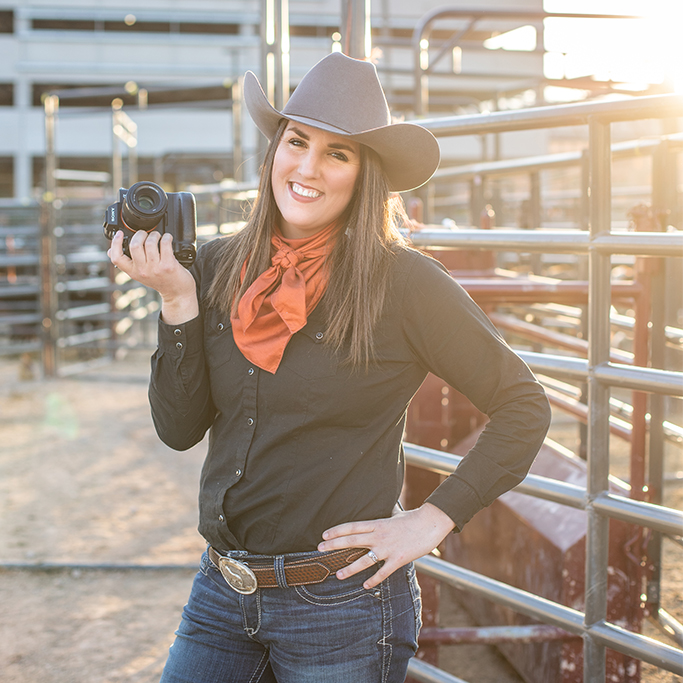 Photographer & Videographer
Photographer & Operations