 We have a passion for the
western lifestyle;
serving and promoting the heritage and tradition using powerful imagery, online digital marketing and marketing services.
McFarland Productions serves the western and agricultural industry providing digital marketing consulting, video and photo services
Ranch lifestyle is a tradition, a culture that is rooted in the history of our country. It's an iconic thing to be a cowboy. We want to keep that feeling alive by passing it on for generations through vivid, authentic, and real stories of what it's like to live the life of a genuine American cowboy, a hardworking rancher, an honest farmer, or a dedicated rodeo athlete.
McFarland Productions specializes in professional photography and videography for ranches, farms, brands, fashion, makers, rodeos, events, ranch weddings and more – wherever your story is located. Telling authentic stories and helping to grow businesses or capture the lifestyle is important to McFarland Productions' team.
McFarland Productions provides marketing consulting services for western fashion, cowboy makers, agriculture related companies, farms, ranches, horse trainers and more through a focus on photography & videography, content marketing, website design, development & maintenance, social media marketing, publishing and more.
Promoting the agriculture industry and preserving the western way of life is a passion of ours. With years of experience with ag-related public relations work as well as online marketing experience specific to the industry, we would love to hear about your business and help you with anything from promotional images or video all the way up to an ongoing relationship helping you extend your reach through a long term working relationship.
Based in Southwestern Oregon, we love to travel and we believe that your story is best told where you are.
MEET THE MCFARLAND PRODUCTIONS TEAM
Natalie started McFarland Productions in 2014, which has continued to grow rapidly over the last few years. Her passion and focus have always remained the same; capturing, understanding, preserving and promoting Ranching, Farming, Western Fashion, and the Western Lifestyle. She has always had a love for the western culture and even at a young age it was unmistakably clear what she was born to do. 
Natalie grew up on a small ranch, rodeoed, showed horses in a variety of disciplines, showed livestock, and participated in 4H and Oregon High School Equestrian Teams. She has trained herding dogs and started colts, worked with sheep and cattle and has had the experience of racing to finish up a hayfield before a rainstorm hit. She understands the joys, sorrows, wins, losses and hard work of ranchers and farmers.That's why McFarland Productions can produce authentic marketing materials of ranchers, riders and ropers – it's who she is.
The love she has for the western way of life is what prompted her to use photography and videography to preserve the western heritage, both old and new. "I have a passion for agriculture; farms, ranches, and agriculture related businesses. Cattle ranches, sheep farms, leather workers, saddle makers, western fashion designers, hat makers, silversmiths… I love to work with them all. It's not a job. It's a lifestyle. And those living it know what it means to be a rancher, a farmer, or a cowboy."
541.315.5806
natalie@mcfarlandproductions.com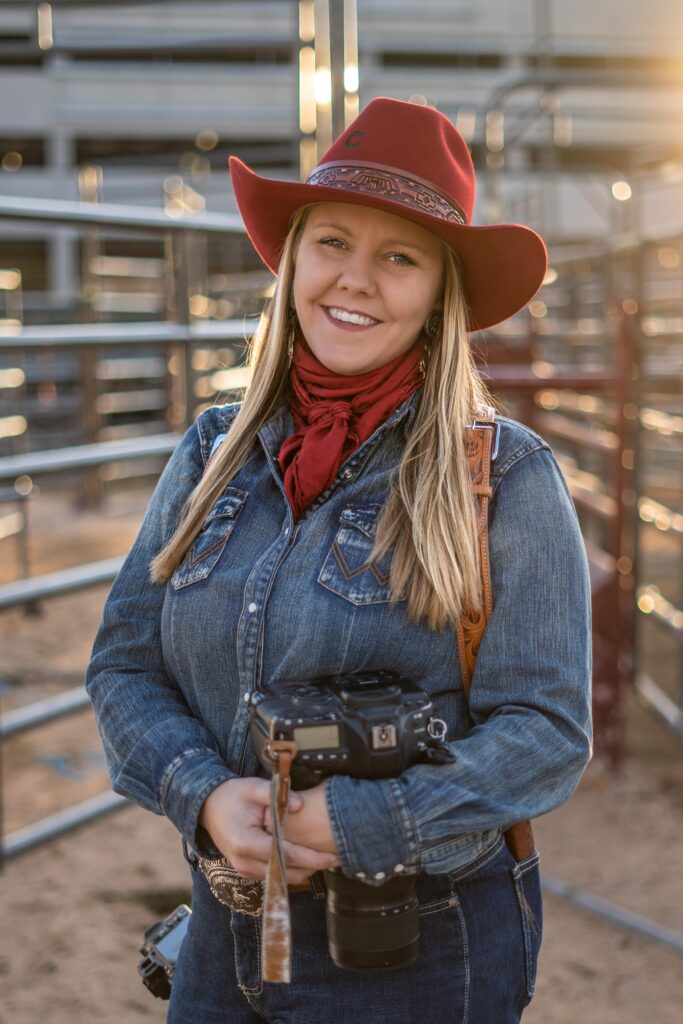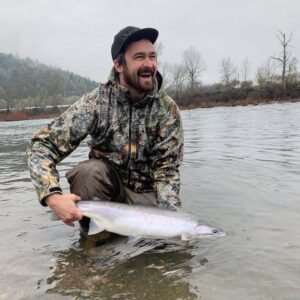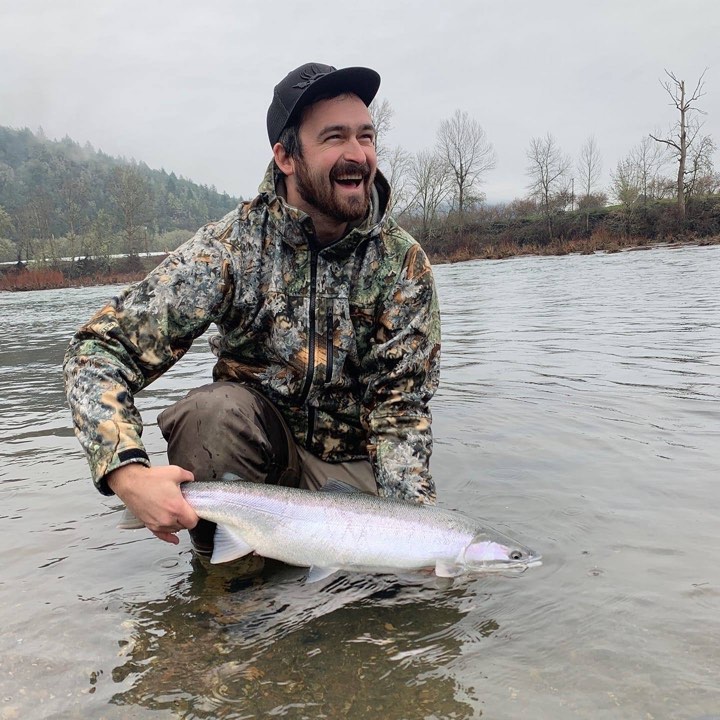 VP of Operations
Kevin McFarland, Natalie's husband, has always been a huge supporter of McFarland Productions and in 2021, he joined the team full time. His passion for business growth and development has been an asset to McFarland Productions. 
Kevin grew up in Roseburg, OR where he spent most of his time on the rivers, at the ocean just a couple of hours west, or in the mountains. He has a huge passion for fishing and hunting and growing up in Roseburg only fueled that addiction. 
He also has a star-up company Trespass Outdoors which will help ranchers and farmers generate additional income by connecting them with outdoor recreationists through an online application helping to mitigate the concerns ranchers' have relative to allowing people to use their properties for hunting, fishing and other outdoor activities. 
Growing up, he was involved with agriculture through his family's small raspberry farm and helping in the filbert orchards of surrounding farms. He also worked for Ritchie Seed for many years both harvesting and as a mechanic for a variety of seed production from irrigated Wheat to Triticale and everything in between. 
kevin@mcfarlandproductions.com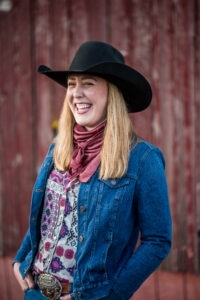 PRODUCTION ASSISTANT
Katie grew up on her family's dairy farm in New England. Having grown up in an agriculture community, Katie has cultivated a deep passion for the land, animals and the farmer. She was deeply involved in the everyday operation of the farm including running equipment, milking, delivering calves and managing herd health. She also worked in the swine and beef industries managing an operation of over 300 pigs and beef cattle.
Over the last decade, she has worked with a variety of agricultural based businesses, including tending an apple orchard or vegetable stand, working for an ovine medical research facility or driving a team of draft horses at an educational farm for an event.
Horses have been in Katie's life since the very beginning, and though she didn't grow up around the western industry, she has always been intrigued with the culture and the western lifestyle. 
Being a part of the McFarland Productions team is a dream come true. She is very excited to see and learn more about the cowboy culture and to grow her knowledge in the agriculture field by helping to preserve, promote and strengthen the western industry.
katie@mcfarlandproductions.com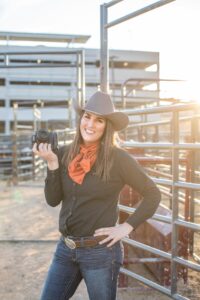 PHOTOGRAPHER & VIDEOGRAPHER
Stephanie Furlong grew up on a cattle ranch in the Willamette Valley, where she enjoyed wading in their creek, showing steers in 4H, spending time with her large family, and riding her horse around their property whenever she could. She moved to Roseburg when she met her now husband, Chad. They started dating in 2011 when they ran away to live in New Zealand to work as a sheep shearer and wool rousey. They then got married in 2013 and threw caution to the wind when they started their first-generation sheep ranch and had a pile of daughters (four in five years, to be exact). Harper is 5, Hayden is 4, Shiloh just turned 2 and Cora was born in June of 2020! It's been a wild year. They now run about 500 ewes and have a small herd of Murray Grey cows. Stephanie has a passion for agriculture and small businesses. She started working for McFarland Productions a few years ago, and has had some of the most incredible experiences doing so. "I love my work and the people I get to meet and the friends I get to work beside. I also love that this company's values line up with my own. Preserving and celebrating this lifestyle is so important to me. I wear many hats, but my McFarland Productions hat is one of my very favorites."
stephanie@mcfarlandproductions.com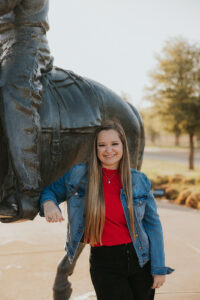 OUTREACH MARKETING MANAGER
It's where the cypress trees thrive and the gators roam; Saint Cloud, Florida, is where Scout Baker called home for 21 years. With an acceptance into the Nation's top agricultural communications college, Scout moved to Lubbock, Texas, to cultivate her craft in photography, copywriting, and campaign strategies at Texas Tech University. However, her passion for agriculture developed long before college. 
The foundation of her devotion to the ag industry sits atop being a fourth-generation member of the Silver Spurs Riding Club. As a child and teenager, she volunteered at the largest rodeo east of the Mississippi by serving patrons in the concession stand, performing a square dance on horseback called Quadrille, and videoing her family's bucking bulls. As she got older, she continued to ride in Quadrille and worked behind the chutes with three generations of her family. 
Outside of the Silver Spurs Rodeo, Scout was a competitive and sideline cheerleader for ten years, on the livestock judging team in high school, an exhibitor at the Kissimmee Valley Livestock Show, the president of the Harmony FFA Chapter, and the president of the Harmony FFA Alumni group. For the last several years, Scout has used these experiences to provide genuine marketing, photos, and writing pieces for rodeos, restaurants, and agricultural services. 
As a May 2022 graduate, Scout now resides in Crockett, Texas, with her boyfriend of 6 years, Lane, and two dogs, Rue and Dill. As new small  town east Texas residents, they help her uncle run commercial and Brahman cattle and rodeo stock. From raising bottle calves, artificially inseminating cows, or putting the time in with young bulls, Scout understands the long hours, trials and tribulations, and praise-worthy moments. As a small part of the agriculture industry, her life's purpose is to tell the raw stories of gritty and caring ranchers, farmers, and all in the western lifestyle. 
With unwavering love and commitment to preserving agricultural industries, she has found her home as a part of the McFarland Productions team. 
scout@mcfarlandproductions.com
Some places you may have seen us...